Tag: Mira
by Andy on May.10, 2009, under Events, Fremont, Nightlife, Party, Seattle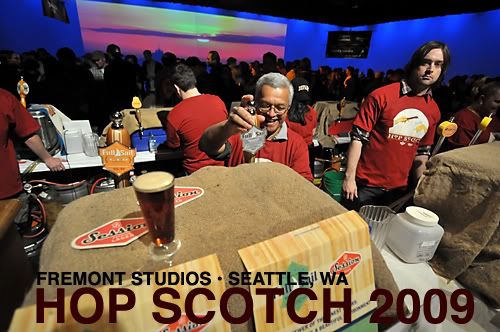 This weekend the folks at Seattle's Bold Hat Productions staged the seventh annual Hop Scotch Spring Beer and Scotch Festival in Fremont. Over 50 microbrews and imports, along with Scotch and Tequila samples were featured at the event. The tasting is a benefit for the Seattle International Film Festival.
So to summarize:
Lots of beer.
Fremont.
Cool charity.
Of course The Andy Aupperlee Explosion 5000 was there.
(continue reading…)
1 Comment
:Ben E, Bill S, Brandon C, Christine R, Fremont, Fremont Studios, Gus, Hop Scotch, Matt M, Mira, Seattle
more...
by Andy on Aug.24, 2008, under Fremont, Nightlife, Party, Seattle
Ryan and Brett. 806 N 49th BBQ. August 23, 2008.
Nikon D300. Tokina 11-16mm f/2.8 lens @ 12mm.
Program Exposure. 1/30 sec. @ f/2.8. ISO 1600.
On Saturday night we had a few friends and coworkers over for a little BBQ. I unsheathed the D300 for several minutes to capture one of the first parties we've thrown in the new place. In
homage to one of my favorite blogs, Hipster Runoff (careful with this one at work, yall), I created several animated GIF files.
Also, you will probably find this post more meaningful/authentic if you pump some
Girl Talk
while you read, srsly.
3 Comments
:806 N 49th, animation, Ben E, Brett, Coach K, Hipster Runoff, Kaitlin, Matt M, Mira, Party, Ryan N, Seattle, The Intern, Work Folks
more...