Tag: IDCW
by Andy on Oct.25, 2010, under Events, Party, Seattle, SoDo
The Interior Design Coalition of Washington (IDCW) asked me to photograph Seattle Fashion Week last spring. Several pieces from IDCW's premiere event, Product Runway, were due to take a stroll down the runway. Having covered Product Runway before (and producing a short film on the event), I was delighted to hang out and rip off a few frames.
Leave a Comment
:IDCW, Jill Marasigan, Product Runway, Seattle Fashion Week
more...
by Andy on May.02, 2009, under Events, Georgetown, Party, Seattle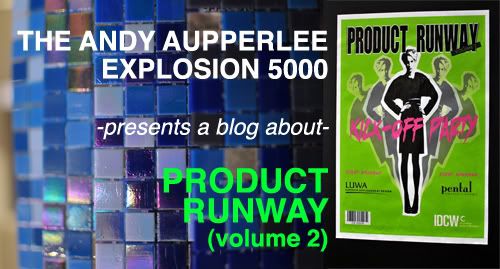 WTF is Product Runway? It's something I'm blogging about, semi-exclusively. Jill Marasigan, the event's co-chair and a designer at Lara Taylor Interiors, invited The Andy Aupperlee Explosion 5000 to attend the oh-so-hip Product Runway Volume II kick-off party last month. Unable to refuse such a swanky suggestion, I immediately packed up my camera, made a pathetic attempt at dressing artsy/hip, and headed down to Pental Granite and Marble's art-gallery-esque showroom in Georgetown. I downed a few cocktails, fed on some finger food and made some photographs with Seattle's denizens of design.
(continue reading…)
4 Comments
:Amanda Swartwout, IDCW, Jill Marasigan, LUWA, Matt Case, Pental Granite and Marble, Product Runway, Spirit 105.3
more...