Tag: Brandon C
by Andy on Jul.03, 2009, under Belltown, Nightlife, Party, Seattle
It's birdie time! Last weekend we had more than just the mojo working when the Explosion 5000 met a college tradition: Tennis Hoes & Golf Pros. A familiar cast of characters, clad in their country club finest, descended on Seattle's Belltown and proceeded to paint the town plaid.
Warning: Images of Superfisky in women's tennis clothing follow. Also, this post contains photographs of original artwork by Superfisky, which might make your boss question what exactly you're looking at on the internet.
1 Comment
:Belltown, Brandon C, Buckley's, Christine K, Curtis C, Desiree, Kristen A, Party, Seattle, Spitfire, Superfisky
more...
by Andy on May.10, 2009, under Events, Fremont, Nightlife, Party, Seattle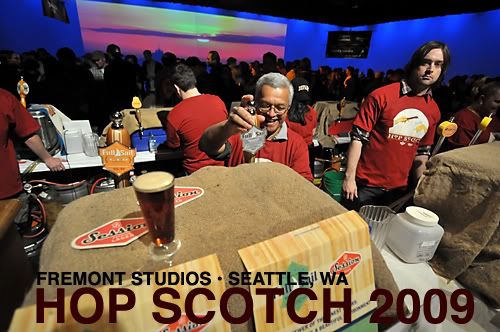 This weekend the folks at Seattle's Bold Hat Productions staged the seventh annual Hop Scotch Spring Beer and Scotch Festival in Fremont. Over 50 microbrews and imports, along with Scotch and Tequila samples were featured at the event. The tasting is a benefit for the Seattle International Film Festival.
So to summarize:
Lots of beer.
Fremont.
Cool charity.
Of course The Andy Aupperlee Explosion 5000 was there.
(continue reading…)
1 Comment
:Ben E, Bill S, Brandon C, Christine R, Fremont, Fremont Studios, Gus, Hop Scotch, Matt M, Mira, Seattle
more...