by Andy on May.02, 2009, under Events, Georgetown, Party, Seattle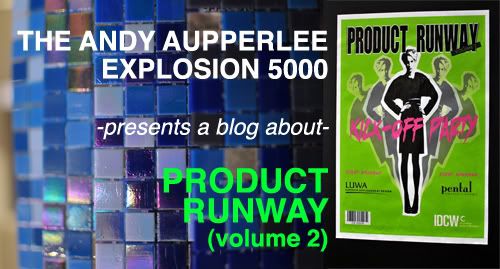 WTF is Product Runway? It's something I'm blogging about, semi-exclusively. Jill Marasigan, the event's co-chair and a designer at Lara Taylor Interiors, invited The Andy Aupperlee Explosion 5000 to attend the oh-so-hip Product Runway Volume II kick-off party last month. Unable to refuse such a swanky suggestion, I immediately packed up my camera, made a pathetic attempt at dressing artsy/hip, and headed down to Pental Granite and Marble's art-gallery-esque showroom in Georgetown. I downed a few cocktails, fed on some finger food and made some photographs with Seattle's denizens of design.

In the coming months, you'll see Explosion5k coverage of the participants as they battle their way to fashion greatness and flaunt (via models) their handy work at the Product Runway fashion show. Below is last year's winning garment from GGLO and Atlas Carpet.
So really, WTF is Product Runway? It's the fusion of interior design and haute couture fashion. The event is put on by the Interior Design Coalition of Washington. With the goal of creating gorgeous and bloggable fashions, eighteen teams culled from the best interior designers in the Pacific Northwest are randomly paired with eighteen suppliers. Instead of partnering with fabric, thread and clothing companies; the designers work with suppliers from their own industry. They range from from carpet to tile to lighting. The twist? The design teams can only use materials from their partner supplier. Pictured above is the creation of Bassetti Architects who partnered with interior experts BiNW.
How do you blog about fashion? I'm not really sure. Before the party, I bought a small notebook and pen in case I decided to take notes, reporter style. Upon arriving at Pental's gorgeous gallery, it became immediately clear how I would proceed. I ditched the traditional pen-n-pad for a beer served from the Luwa appliance adorned bar. Sheri Walsh (picture above), of Luwa and Director of Trade Relations, served up some excellent cocktails. Now we're blogging. Rather than be a fly on the wall and "observe and report;" I opted to get into the trenches with the designers and drink my way to a story. Not sure if anyone in journalism/writing has ever tried this approach… regardless, a blog did emerge.
Pental Granite & Marble graciously hosted the lavish kick-off party at their stunning showroom. Pental and party co-sponsor Luwa made sure plenty to eat and drink were on hand. Designers mixed and mingled at several chest-high tables, decorated with cleverly constructed candles, while weaving in between gorgeous tile mosaics.
One of the first people I ran into was everyone's favorite radio guy, Matt Case of Spirit 105.3. Here Matt is chatting up Rebecca Durr of JPC Architects and Stacy Dekoekkoek, the lead for Product Runway's raffle.
Several green wig-wearing interior design students from around Seattle were also on hand to help run the event.
Despite all the networking, eating and drinking; some business actually did get done. Jill Marasigan kicked off the matching event by welcoming everyone, thanking the sponsors and giving a brief overview of this year's Product Runway competition. Jill then turned it over to Dru Jordan, Product Runway Kick-off lead from Business Interiors NW, to pair up designers and suppliers using the scientific fishbowl method.
With the teams now in place, designers and suppliers will work their way through the four phases of design: schematic design, design development, construction documents, and construction administration. Each phase will have a scheduled deadline that teams are required to meet. Look for more coverage on The Andy Aupperlee Explosion 5000 as the designers advance through this process.
As the party wrapped up, I had the chance to chat with Jill Marasigan and Amanda Swartwout (above), designer at Weber Thompson and VP of Events for IDCW, about this year's fashion show finale. The exciting and much anticipated event will be held on Friday August 28, 2009 at the Seattle Center Exhibition Hall. In addition to the runway show, the night will be complete with hip DJs, signature cocktails, hors d'oeuvres and a raffle featuring exclusive products from local Seattle designers. The Explosion 5000 will be there to photograph and blog… What kind of outfit should I wear to fit in with the designers? What do bloggers wear to fashion shows? For more information on how to attend or sponsor the event, please visit ProductRunway.com.
Miss the kick-off party? Check out all the photos on this page and many more on Flickr; or watch the slideshow below.
:Amanda Swartwout, IDCW, Jill Marasigan, LUWA, Matt Case, Pental Granite and Marble, Product Runway, Spirit 105.3