by Andy on May.10, 2009, under Events, Fremont, Nightlife, Party, Seattle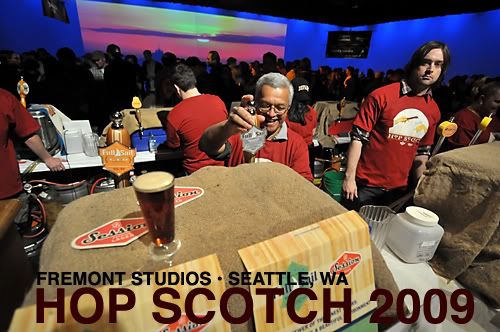 This weekend the folks at Seattle's Bold Hat Productions staged the seventh annual Hop Scotch Spring Beer and Scotch Festival in Fremont. Over 50 microbrews and imports, along with Scotch and Tequila samples were featured at the event. The tasting is a benefit for the Seattle International Film Festival.
So to summarize:
Lots of beer.
Fremont.
Cool charity.
Of course The Andy Aupperlee Explosion 5000 was there.

Gus, aka Goose Gus, rolled with me to the event and subsequently made his Explosion5k debut. Since arriving from Southern California last fall, Gus has quickly adapted to life in Seattle. Gus seems to be content with trading smog for the Space Needle and douchebags for drizzle.
Fortunately, beer drinking is a co-ed sport in Seattle. Mira (above) went mini-mug for mini-mug with us. We also happened to run into Christine (below), formerly of St. Louis. The event was truly an eye-opener for her as she learned that there are other beers in this world not called Budweiser.
Matt, Bill (both pictured above) and Ben were also wandering Fremont Studios with me. The event took place in Studio A, a large sound stage lined with projector screens featuring iconic images of Seattle and spring. The beer vendors dominated most of the room. A roped off section in the back served Scotch and tequila. I was in the northwest corner of the hall when I ran into Brandon. He was pleading with me take the rest of his tokens. Apparently, the small six-ounce glasses caught up with him quicker than expected. Already having had a healthy helping of microbrews myself, I agreed to accept a few tokens if he got a beer with me. We found a man pouring Full Sail and indulged. He might have been the happiest person in the room.
Check out these photos and few others on Flickr, or watch the slideshow below.
:Ben E, Bill S, Brandon C, Christine R, Fremont, Fremont Studios, Gus, Hop Scotch, Matt M, Mira, Seattle